'Tis T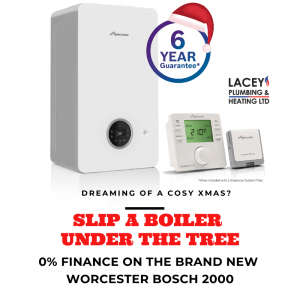 he Season To Be Plumbing, Fa La La La La, La La La Laaaaa! In case you missed the memo (and our Christmas advert) we're definitely getting into the festive spirit this year.
We believe everyone deserves quality – products and services they can rely on and the knowledge that their hard-earned cash is being spent wisely.
As part of this, we're offering customers 0% finance for up to two years on the brand new Worcester Bosch 2000 Combi-Boiler. The boiler is part of Worcester's beautiful Lifestyle range, complete with a sleek, modern design fit for any modern home. The 2000 also includes innovative new features which keep your home toasty warm and the boiler working as efficiently as possible.
Since Lacey Plumbing and Heating is a Worcester-Approved Installer, each boiler comes with a six-year guarantee for long-term peace of mind. You couldn't ask for more than that!
Treat your home to the only gift you really need for 2020 – ensuring a cosy Christmas and Winter season.
Call the Lacey Plumbing office to discuss a completely free, no-obligation quote or you can use our online tool to get an instant estimate online – http://www.laceyplumbing.co.uk/free-quote/